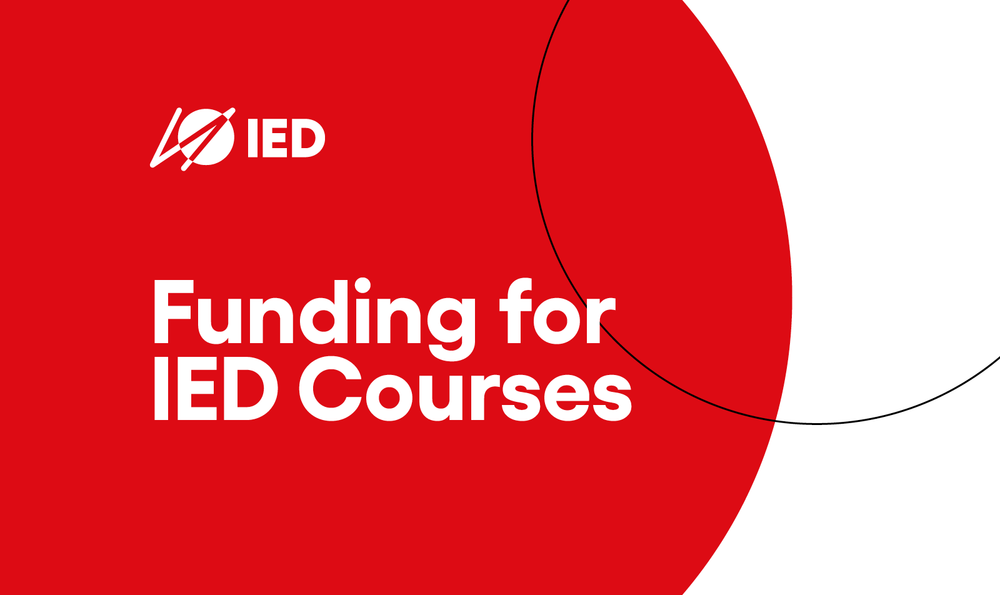 Funding for IED Courses
We work daily to ensure that education is accessible to more and more people.
IED has always strived to ensure that as many students as possible have access to an education.
We believe that a better world also depends on the development of talent and its transformation into a profession, which is why we have set up partnerships with a number of credit institutions, through which you can get support in dealing with the expenses involved in becoming an IED student.
Below you will find the funding options dedicated to students resident in Italy on Three-year Courses, Master Courses, Continuing Study Programs and Summer Courses.

Read more in the relevant box if your course is included in the individual option.
Funding options
Discover the options available for 2023 - 2024
IED students resident in Italy have the possibility of accessing interest-free Deutsche Bank loans for up to ten months for the payment of tuition fees.

The related financial burden of interest will be fully borne by IED. The granting of the loan is subject to the bank's approval.
For more information, please contact your Admission Advisor.
In order to pursue their studies with greater peace of mind, IED students residing in Italy can apply for the BNL Futuriamo loan to support their investment in their education and future, and to meet the requirements of their education: tuition fees, purchase of textbooks, accommodation and transport costs for those away from home, and purchase of PCs/Tablets.

BNL Futuriamo envisages a minimum amount of EUR 5,000, a one-off disbursement and a repayment term of up to 10 years, with the possibility of postponing repayment of the capital from 12 to 36 months after disbursement. For younger students, who have not yet entered the labour market, co-ownership with a parent or guardian is envisaged. The loan is managed entirely by BNL Gruppo BNP Paribas.

The granting of the loan is subject to the bank's approval. For all information and contractual and economic conditions, please refer to the BNL.it website or to BNL branches.

Further information can be found on the page of the website dedicated to the BNL Futuriamo loan. To be contacted, simply click on "Get in touch" and fill in the simple form.
Dedicated to students of IED Master Courses and all IED courses granting a First Level Academic Diploma
All students, resident in Italy, studying at IED for a Master Course or an AFAM course (three-year course granting a First Level Academic Diploma) can count on economic support provided by Intesa Sanpaolo to enable them to broaden their skills. "Per Merito" is a loan that students can obtain provided they are in good standing with their studies and does not require any collateral.

It makes it possible to meet tuition fees, the purchase of teaching materials or accommodation costs to cope with the educational activity with peace of mind. At the end of the studies, a "bridging period" of 24 months is triggered, during which the student will receive no further payments but will not yet have to repay anything. Repayment will take place over a maximum period of 30 years and in the case of early repayment there are no additional costs.

The granting of the funding is subject to the bank's approval. For the contractual terms and conditions, please consult the information sheets available in branches and on the bank's website.

Visit this page for more details.