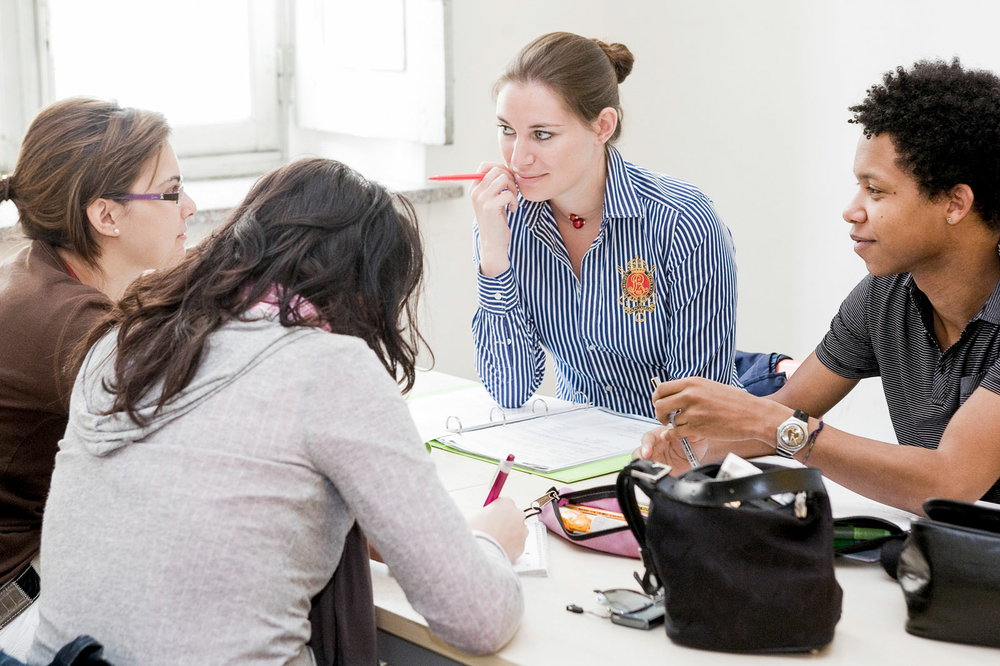 Career service IED Italia
One-on-one meetings, training courses, interviews with recruiters and employers, Virtual Career Fair.
Our methods and approach to project design are being reviewed on a regular basis, allowing us to always keep up with innovation and new market trends.
Our Career Service staff members are working across all of our schools to take care of every single student. They provide support, training opportunities and assistance to help students, employers and the school itself feel more comfortable with the whole process.
This value-creation system is the product of exchanges between IED, recent graduates from both Undergraduate and Postgraduate programmes, the Alumni network -a large community of former students who have now become professionals- and the business world.
Working as a connection between education and the job market, over the years this service has contributed to successfully building solid partnerships with leading companies from a number of industries.
Upon graduation, you will have access to a variety of job opportunities, including work placements and other types of contracts. 32% of our students can skip the work placement phase and go directly to a job offer.
And within twelve months of graduation, 89% of students on our three-year degree programmes at IED Italia have found a job.
Student Services
Every year, we support students in our Undergraduate and Postgraduate programmes as they prepare to move into the job market.
We organize training sessions specifically designed for our students, based on the different schedules of each degree programme and having always in mind their individual needs and expectations.
We organize training sessions specifically designed for our students, based on the different schedules of each degree programme and having always in mind their individual needs and expectations.
You will be involved in a personal development process, consisting mainly of one-on-one meetings with members from our Career Service team.
The aim of these meetings is to enhance acquired skills and personal talents of each student. You will also develop more awareness as you learn how best to approach the job market, creating your first CV with a high-impact professional portfolio.
Over the year, we also arrange specific training sessions with recruitment professionals to help students successfully approach real-life job interviews, as they develop full awareness of present status and future prospects of creative careers.
The highlight of the whole process is the Virtual Career Fair, an event where students have the opportunity to get in touch with the different partner companies involved and take part in recruitment interviews.
The key training activities helping our students find their way into the job market are basically 5:
1 - Career Talk with Monster, the recruitment giant offering talent to companies that want to make the most of it. Join our team for a day to understand how to approach interviews and bring out the best in you.
2 - One-on-one meetings with our staff, with a special focus on critical factors for the future of our students: strengths, talents and real opportunities.
3 - Career Talks with LinkedIn, the world's largest professional social network, with over 645 million users in more than 200 countries and regions.
4 - Job Future Days: held in May, these are training sessions designed to bring major brands into contact with students. The whole event includes round table discussions and presentations on key areas of students' work, with an eye on the future of the creative professions.
5 – Lastly, the Virtual Career Fair takes place between September and October, an event organized within the IED Alumni Network platform, designed to offer a further and valuable opportunity to our graduates. An appointment during which students have the opportunity to introduce themselves to the numerous companies involved and participate in the selection interviews.
CAREER SERVICE FOR BUSINESSES
We help businesses in different industries to identify the best profiles from among our students. The idea is to maximize the time needed for assessment through our special talent acquisition services, which are available for both curricular and extracurricular work placements.
With a careful selection of profiles based on detailed job descriptions, we manage the paperwork for the entire work placement application process. We also encourage companies to take an active part in the Job Future Days: these are special days for sharing ideas with students and selecting new and talented candidates.
Are you a company interested in a cooperation with IED? Find out how to.

With our schools in Milan, Rome, Madrid, Barcelona, Turin, Florence, Bilbao, Cagliari, Rio de Janeiro and Sao Paulo, Accademia Galli in Como, we have a unique perspective on the market with almost 500 programmes in our catalogue, about 3,000 professional lecturers and more than 10,000 national and international students.
This strategic position allows us to better understand market requirements and trends across a variety of events and activities, including the Job Future Days, a special conference focusing on creative professions.
For further information on the results and ideas presented, please download the White Paper.
The number of companies joining our partner network is growing every month to include small and medium-sized enterprises, large multinationals, top brands, professional firms of all sizes as well as innovative start-ups, such as:
3M, Accenture, ADD, Alphaomega, Ambito 5, Armando Testa, Artemest, Attila, Auge, Azimut Benetti Group, BCube, Bigfish, Big Spaces, Boffi-De Padova, Borbonese, Boston Consulting Group, BMW, Bottega Veneta, BTicino, Calvin Klein, Calzedonia, Canon, Cayenne, CBA Design, Ceres, Chapeaux, Cheil, Class Editori, Collezione Peggy Guggenheim, Condé Nast, Cortilia Spa (via), Damiani, Davide Campari, Deep Blue, Deloitte, Diesel, Digital Angels, Doing, Doucal's Italy 1973, Dpr Eventi, Dude, Eataly Spa, Egg Eventi, Elica, Ermenegildo Zegna, Etro, Fandango, F&P Group, Ferrari S.p.A., Filmmaster Events, Frankie Morello, Freedamedia, Futurebrand, Gas Jeans, Gessi, Giorgio Armani, Gi Group, Gruppo Alessandro Rosso, Gruppo Fonema, Hachette Rusconi, H-Art, Hearst Magazines Italia Spa, Heineken Italia, H-Film, Honda, H-57, HugoBoss, Ilva Saronno, Inditex, Interbrand, Itaca Comunicazione, Italdesign Giugiaro Spa, Ikea, Jimmy Choo, Kering Group, Key Adv, Lamborghini, Landor, La Sterpaia, La Triennale, Lavazza Group, Leagas Delaney, Leo Burnett, Les Copains, LIU·JO Spa, Live Nation, L'Oréal, LVMH, McLaren, M&C Saatchi, Magnolia, Maison Margiela, Max Mara Fashion Group, Maximilian Linz, McCann Eriksson, Mediaset, Milestone, Missoni, Moncler, Mondadori, Morellato, Moschino, Ms&L Italia, Nestlé, Nike, Ogilvy, Paul Smith, Piaggio, Piano B,Pinko, Piquadro, Poltrona Frau, Pomellato, Promotion Tag, Publicis Modem, RBA, Rcs, Redbull, Replay, Rmg Connect, Robilant Associati, Saatchi & Saatchi, Samsung, Sketchin Studio, Studio Patricia Urquiola, TBWA, Teikna Design, The Others, Tita, Tod's Group, Toyota, Ubisoft, Undercolors of Benetton, United-Grey, Univisual, Versace, Vivo Concerti, VF Corporation (Vans, The North Face, Timberland, Napapijiri, and more), We Are Social, Wella,
Young & Rubicam.