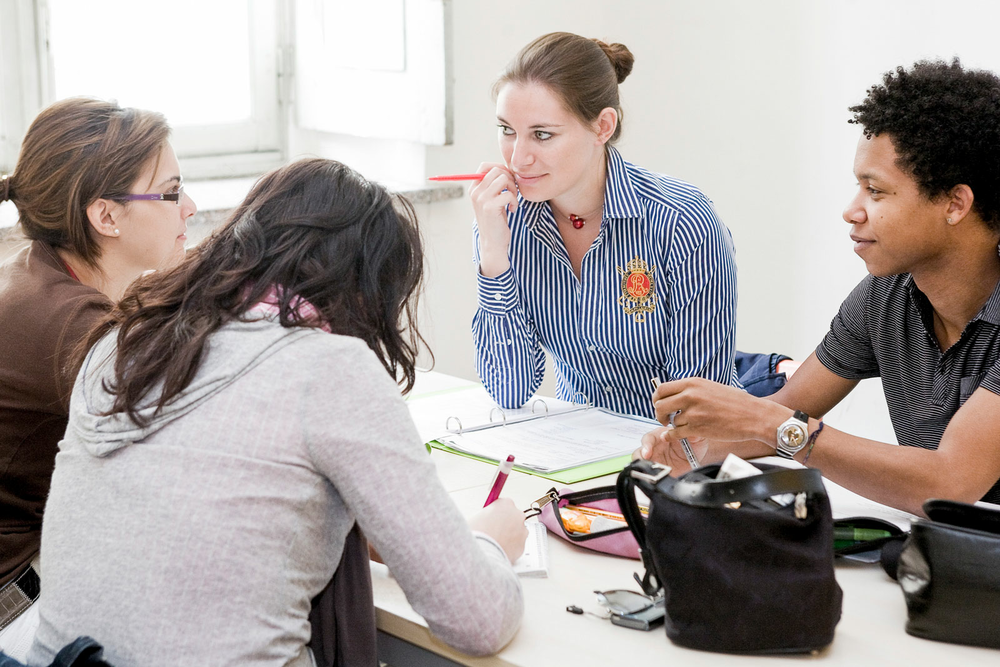 Career service IED Italia
Incontri one-to-one, formazione e colloqui con i recruiter e le aziende, Virtual Career Fair
Entrare nel mondo del lavoro, oggi più che mai, è difficile e per niente scontato. La metodologia e l'approccio alla progettazione che IED rinnova di anno in anno marciando al passo dell'innovazione e dei mutamenti inaspettati, rappresentano una chiave importante per essere nel mercato.
Il Career Service IED Italia, con un team di 15 persone distribuite in tutte le sedi, si prende cura di ogni singolo studente che passa nelle nostre aule. Lo fa attraverso un processo di accompagnamento, formazione e promozione che premia lo studente, l'azienda e la scuola stessa. Questo circolo virtuoso parte da IED, coinvolge i neo-diplomati dei corsi Triennali e Master, menti fresche e pronte per il mondo del lavoro; tocca gli alumni, la grande comunità di ex studenti – ormai professionisti, e confluisce naturalmente verso il mondo delle imprese.
Il Career Service, ponte tra la formazione e il mondo del lavoro, negli anni ha saputo costruire con le imprese relazioni solide e durature di vera e propria partnership. Nonostante la difficile stagione attraversata quest'anno, i dati confermano che a sei mesi dal diploma, l'83% degli studenti dei corsi triennali IED Italia è già entrato nel mondo del lavoro.
Per gli studenti
Ogni anno, l'Ufficio Career Service affianca gli studenti dei corsi Triennali e Master per prepararli e supportarli nell'ingresso al mondo del lavoro.
Propone attività dedicate, secondo le tempistiche di ogni tipologia di corso, con un approccio che rispetta le differenti aspettative degli studenti che li frequentano.
Attraverso un percorso personalizzato, costituito da incontri individuali, ogni studente è accompagnato da una persona dello staff.
Gli incontri hanno l'obiettivo di mettere in evidenza le competenze acquisite e le attitudini personali di ciascuno studente, contribuendo a creare consapevolezza per sviluppare il giusto approccio verso il mondo del lavoro e costruire un curriculum vitae e un portfolio competitivi.
Durante l'anno vengono organizzati momenti di formazione con professionisti del recruitment che insegnano ai ragazzi ad affrontare in modo consapevole un colloquio di selezione e raccontano lo scenario presente e futuro delle professioni creative.
Il percorso culmina con la Virtual Career Fair, un appuntamento durante il quale gli studenti hanno la possibilità di presentarsi alle numerosissime Aziende coinvolte e partecipare ai colloqui di selezione.
Sono 5 le principali attività formative, finalizzate all'inserimento nel mondo del lavoro, che ogni anno l'Ufficio Career Service propone agli studenti dei corsi Triennali e Master:
1 – Career Talk con Monster, un gigante del recruitment, il cui obiettivo è mettere il talento a disposizione delle imprese che sappiano valorizzarlo: una giornata per comprendere come affrontare i colloqui e come dare il meglio di sé.
2 – Gli incontri one-to-one con lo staff, nei quali vengono affrontati una serie di temi fondamentali per il futuro dei nostri studenti: punti di forza, inclinazioni e possibilità concrete.
3 – Career Talk con Linkedin, la rete di professionisti più grande al mondo, con oltre 645 milioni di utenti in più di 200 Paesi e aree geografiche.
4 – Nel mese di Maggio è la volta dei Job Future Days, giornate formative in cui grandi brand incontrano gli studenti: tavole rotonde e presentazioni su tematiche chiave del loro lavoro e sul futuro delle professioni creative.
5 – Tra Settembre e Ottobre infine ha luogo la Virtual Career Fair, evento organizzato all'interno della piattaforma IED Alumni Network e in collaborazione con Visiotalent, pensato per offrire un'ulteriore e preziosa opportunità ai nostri diplomati. L'evento permette ai diplomati di presentarsi alle oltre 100 realtà partecipanti tramite Video Colloquio. Questo strumento, cuore della Career Fair, consente ai recruiter di valutare fin da subito le soft skill del candidato e di essere più flessibili nella gestione di tutto l'iter di selezione.
Per le aziende
IED Italia con le sue 7 sedi, i 250 corsi a catalogo, i 1900 docenti professionisti e gli oltre 7.000 studenti nazionali e internazionali, rappresenta un osservatorio privilegiato e un importante radar sul mercato.
Grazie a questa posizione strategica, IED prevede, intercetta e risponde alle esigenze delle aziende e ai trend attraverso diverse iniziative tra cui i Job Future Days, stati generali delle professioni creative.
Per approfondire i risultati e le riflessioni emerse, scarica il White Paper.
Il Career Service IED aiuta le Aziende a trovare i profili più adatti, ottimizzando i tempi di valutazione, attraverso diversi servizi in ambito del talent acquisition per posizioni di stage curriculari ed extracurriculari. Si occupa infatti della selezione personalizzata di profili rispetto alle job description aziendali, gestisce le procedure burocratiche dell'intero processo di attivazione di tirocini e organizza i Job Future Days: giornate dedicate all'incontro e al confronto con gli studenti e alla selezione di talenti promettenti.
Sei un'azienda interessata a collaborare con IED? Scopri come.
Il Network delle aziende partner cresce di mese in mese e comprende piccole e medie imprese, grandi multinazionali, top brand, studi di diverse dimensioni, e start-up innovative:
3M, Accenture, ADD, Alphaomega, Ambito 5, Armando Testa, Attila, Auge, BCube, Bigfish, Big Spaces, Boston Consulting Group, BMW, Bottega Veneta, BTicino, Calvin Klein, Calzedonia, Canon, Cayenne, CBA Design, Ceres, Chapeaux, Cheil, Class Editori, Collezione Peggy Guggenheim, Condé Nast, Damiani, Davide Campari,Deloitte, Diesel, Doing, Dpr Eventi, Dude, Egg Eventi, Ermenegildo Zegna,Etro, Fandango, F&P Group, Ferrari S.p.A., Filmmaster Events, Frankie Morello, Futurebrand, Gas Jeans, Giorgio Armani, Gruppo Alessandro Rosso, Gruppo Fonema, Hachette Rusconi, H-Art, Heineken Italia, H-Film, Honda, H-57, Hugo Boss, Ilva Saronno, Inditex, Itaca Comunicazione, Ikea, Jimmy Choo, Kering Group, Key Adv, Lamborghini, Landor, La Sterpaia, La Triennale, Leagas Delaney, Leo Burnett, Les Copains, Live Nation, L'Oréal, LVMH, McLaren, M&C Saatchi, Magnolia, Maison Margiela, Maximilian Linz, McCann Eriksson, Mediaset, Milestone, Missoni, Moncler, Mondadori, Morellato, Moschino, Ms&L Italia, Nestlé, Nike, Ogilvy, Paul Smith, Piaggio, Piano B,Pinko, Piquadro, Pomellato, Publicis Modem, RBA, Rcs, Redbull, Replay, Rmg Connect, Robilant Associati, Saatchi & Saatchi, Samsung, Studio Patricia Urquiola, TBWA, Teikna Design, The Others, Tita, Toyota, Undercolors of Benetton, United-Grey, Univisual, Versace, Vivo Concerti, We Are Social, Young & Rubicam.